Opening-Event 2022
Diversity Modernism | Modernism Diversity
The two-day Opening event on Triennial will start on September 30, 2022 at the Czech Embassy in Berlin, a late Brutalist building. On the first day you can expect guided tours on site, reports from Weimar, Dessau and Berlin as well as impulses from other German World Heritage Sites of the Modernism and actors* on EU level. On the second day, October 1, we will present around 20 illustrated lectures on important stages, ideas and buildings of the Berlin Modernism in an entertaining Pecha Kucha format. In addition, there will be a thematic focus with lectures and talks on the roots of Modernism in Ukraine.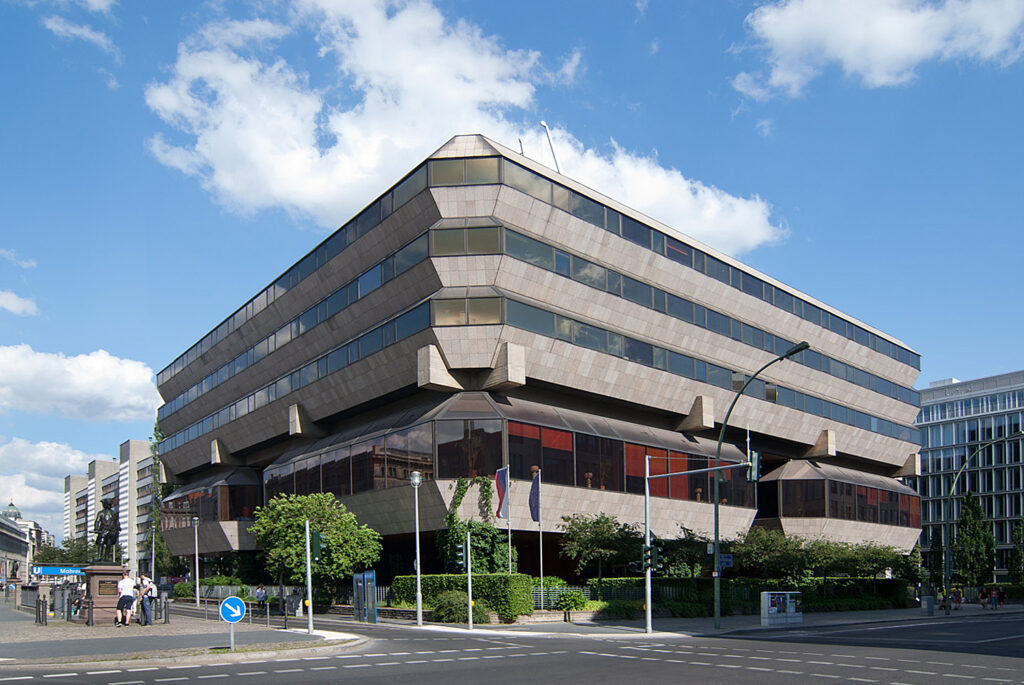 Programme
Opening on 30.9. + 1.10.2022
The Triennial of the Modernism 2022 is opened with the Opening-Event in Berlin.
The Opening of the festival in Berlin extending over two days is at the same time the beginning for the supraregional program of the Triennial of the Modernism 2022 under the city-spreading living.working.living.
Opening-Event "Diversity Modernism | Modernism Diversity"
On the first day, September 30, a symposium with impulse lectures, keynote talks and lectures will take place at the Czech Embassy. They will deal with offers and experiences from the three Triennial core cities Berlin, Dessau and Weimer as well as other World Heritage Sites and Triennial network cities in Germany and Central Europe. Guided tours will show the on-site exhibition on the worth seeing building designed in the style of late Brutalism. Registration is required for the program on 30.9.
On the second day, October 1, a Pecha Kucha block on the overall narrative of Modernism and a special program on Modernism in Ukraine with a focus on the cities of Kharkiv and Lviv and a keynote lecture on Threatened Heritage will follow in the TU Berlin Architecture Building at Ernst-Reuter-Platz. Simultaneous German-English translation for foreign guests is planned.
Side events and get-togethers featuring events and exhibition openings from the Berlin festival program will be offered during the evenings and subsequent weekend days, including the October 3 holiday.
A first get-together will take place on September 30 from 19:00 in the neighboring Czech Center and will be accompanied by the feature "Women architects of late Modernism". On the evening of the second day, the first part of the five-part exhibition series "Modernism in Ukraine" will be opened at 7:30 pm at BHROX bauhaus reuse on Ernst-Reuter-Platz.
Note on the program: Simultaneous German-English translation will be provided for both days of the event.
Venues
September 30, 2022
Embassy of the Czech Republic in Berlin,
Wilhelmstraße 44, 10117 Berlin
Registration required
October 1, 2022
TU Berlin, Architekturgebäude,
Ernst-Reuter-Platz, Forum, Room A014
(main entrance, foyer
on the ground floor to the right of the elevators)
Registration required
Program points
Impulses

,Talks and Lectures

Pecha Kucha of the Modernism
World Heritage Sites of Modernism in Germany
Modernism in context in Central Europe 
Topic Focus Modernism in Ukraine
Keynote Modernism - Heritage at Risk
Exclusive tours of the embassy
Evening events, get together, aperitif, vernissage on the theme of Ukraine
---
Program Highlights
Day I: September 30, 2022
Embassy of the Czech Republic in Berlin,
Wilhelmstraße 44, 10117 Berlin
12:00 + 12:25: Guided tours of the building
13:00-14:00H: Greetings and keynote talk of the Triennial-core cities: Berlin, Dessau, Weimar
14:00-14:40: Impulses from cities and sites of Modernism
with talk on Modernism in Central Europe
15:00-16:15: Impulses from six German World Heritage Sites of the Modernism:
Völklingen, Essen, Alfeld, Stuttgart, Bernau and Darmstadt
with talk on "outstanding universal values
16:15 Coffee break
16:45-18:15: Cities and Networks of Modernism in Central Europe
Impulses from Prague, Krakow, Budapest, Bucharest, Belgrade, Skopje and Kaunas
with Talk on Cooperation and Continuity on Modernism in Europe
18:15 Lessons learned
Evening program afterwards 
18:30: Apéro at the Czech Center, afterwards
19:00 Discussion on women architects of late modernism:
Ursulina Schüler Witte and Věra Machoninová
19:00 alternatively: Vernissage at the Bröhan Museum:
"Lucia Moholy - The Image of Modernism"
---
Day II: October 1, 2022
TU Berlin, Architecture Building,
Straße des 17. Juni 152, am Ernst-Reuter-Platz, Forum, Room A014
13:00 - 15:00: Topic Focus Ukraine:
Modernism Roots and Heritage in Kharkiv and Lviv
15:30 - 18:30: Pecha-Kucha of the Modernism:
Image lectures on the development from the early modern to the post-Modernism
18:30-19:00: Keynote: David Crowely (National College of Art and Design, Dublin) 
19:00-19:30: Lessons-Learned - Discussion and audience questions.
Afterwards evening program
at BHROX bauhaus reuse (on the middle island of Ernst-Reuter-Platz - approx. 300 m opposite)
19:30:

Opening of the exhibition

Modernism in Ukraine




Chapter #1: Lviv Modernism: Let buildings speak. Visual story of Lviv modern housing architecture

Apéro & Get-Together 
Organization: zukunftsgeraeusche GbR, buschfeld.com - in cooperation with
Landesdenkmalamt Berlin, Embassy of the Czech Republic in Berlin,
Tschechisches Zentrum Berlin - presented with Docomomo International and ICOMOS
---
Note on the program:
There will be simultaneous translation (German - English).
Note on documentation:
During the Opening events, photographs, videos and audio and audio recordings will be made. These are used for public relations (also in social media) and serve to document the Triennial of Modernism 2022 (offline and online) and can also be accessed outside Europe. This is done in the sense of Art. 6 para. 1 f) DSGVO. By attending the events, you agree in principle to such documentation and use. You have the right to object to the processing, as well as the right to free information about your stored data and to correction, deletion and restriction of the processing of the data. If you do not wish your personal data to be published, please contact the photographers and/or videographers active on site directly or contact the project coordinators of Triennial of Modernism 2022.
Attention:
Registrations are required
Central Registration:
Registrations
for individual events:
---
Total festival period
September 30 to December 31, 2022
After the Opening weekend from September 30 to October 3 in Berlin, the program focus moves to the
Dessau weekend from October 7 to 9 and from there to Weimar on October 14 to 16.
The program in the three core cities Triennial with exhibitions, conferences and symposia lasts until December 31.
For the first time, other World Heritage sites from Triennial network cities in Germany are also taking part in their own programs.
---
Note and proof of promotion
Many of the above-mentioned services are provided by program partners without institutional funding.
The Berlin program with the kick-off event is funded by the LOTTO-Stiftung Berlin and the Landesdenkmalamt Berlin.
This shortfall in funding is supplemented by own and third-party funding from individual partners.
Berlin program funded by: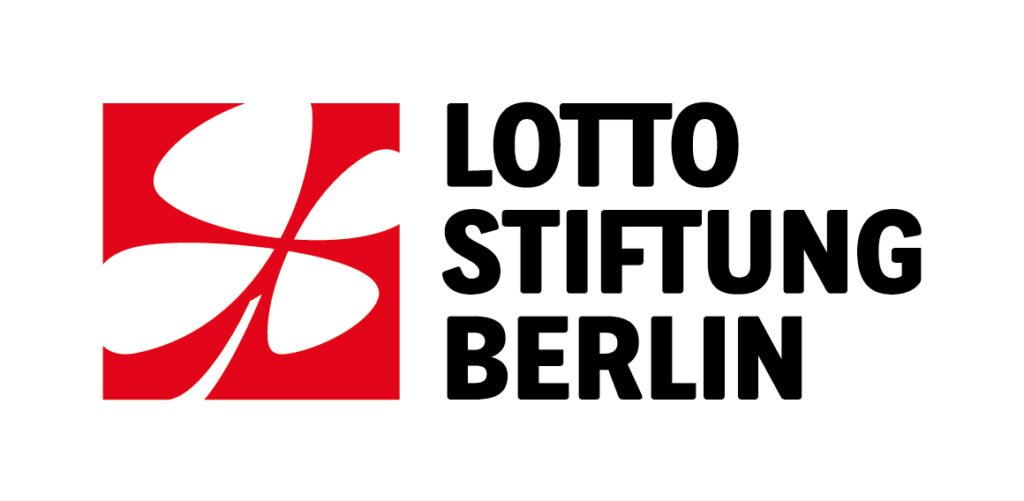 Supplemented by funds from the: