New Frankfurt
Proposed as UNESCO World Heritage Site
The Triennial of the Modernism wants to establish a network of German World Heritage Sites of the Modernism in the medium term - From 2022, Frankfurt am Main will be a new associate partner with its current proposal to UNESCO: In the 1920s, an unprecedented urban design programme was implemented here, which went down in history as the New Frankfurt. Under the mayor of the time, Ludwig Landmann, and the city's building officer, Ernst May, the Modernism took shape on the Main.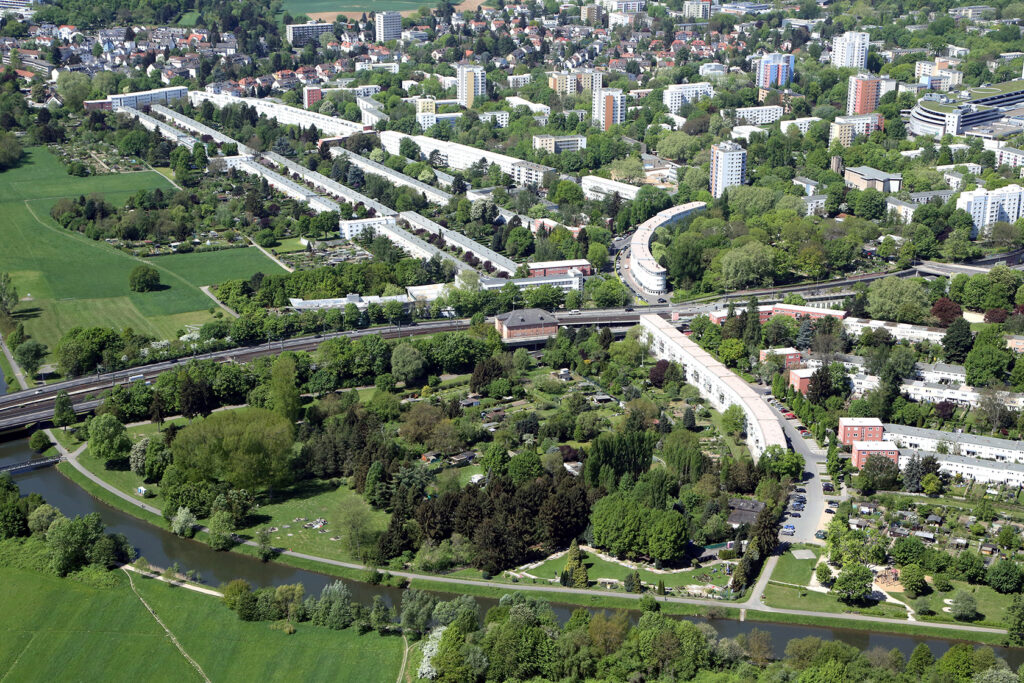 Architecture and offers
The end of the First World War ushered in a new beginning in Germany's social and political life, but also in culture, architecture and urban planning. The major cities underwent enormous modernisation. In Frankfurt, this was accompanied by comprehensive city planning: the New Frankfurt. In addition to incorporations and a massive housing construction programme, the project included the re-foundation of the trade fair, the establishment of an art school, the commissioning of the airport and the initiative for the "HaFraBa" motorway between Hamburg, Frankfurt and Basel. This programme was made possible primarily by Ludwig Landmann and was politically supported by the DDP, the SPD and the Centre Party. 
The housing programme was realised by Ernst May and his team. Between 1925 and 1930 they built more than 10,000 flats in eight Estates. The aim was to build affordable housing. The overall urban development plan did not envisage concentric city extensions as had been the case up to then, but relied on the concept of "city extension by means of satellites". New Estates were built around the whole of Frankfurt. The satellite system is particularly pronounced along the Nidda valley in the north-east of the city. Here, the Estates Römerstadt and Höhenblick were created as garden cities, which the city of Frankfurt is now proposing for UNESCO World Heritage Site status.
In the Römerstadt, a terraced house restored to its 1927 state with a Frankfurt kitchen and house garden as well as a reconstructed allotment garden can be visited.
Further information and programme offers:
Contact persons
Andrea Jürges,
Deutsches Architekturmuseum
Tel : +49 (0)69 21230837
Philipp Sturm,
ernst-may-gesellschaft e.V.
Tel : +49 69 15343883
Social media