Mathildenhöhe, Darmstadt
UNESCO World Heritage on the threshold of the Modernism
In the medium term, the Triennial of the Modernism wants to establish a network of German World Heritage Sites of the Modernism - From 2022, the artists' colony Mathildenhöhe will be a new associate partner: The iconic buildings, works of art and landscaped open spaces on Mathildenhöhe form a unique ensemble that was created between 1900 and 1914 by Joseph Maria Olbrich, Peter Behrens, Albin Müller, Bernhard Hoetger and other members of the Darmstadt artists' colony.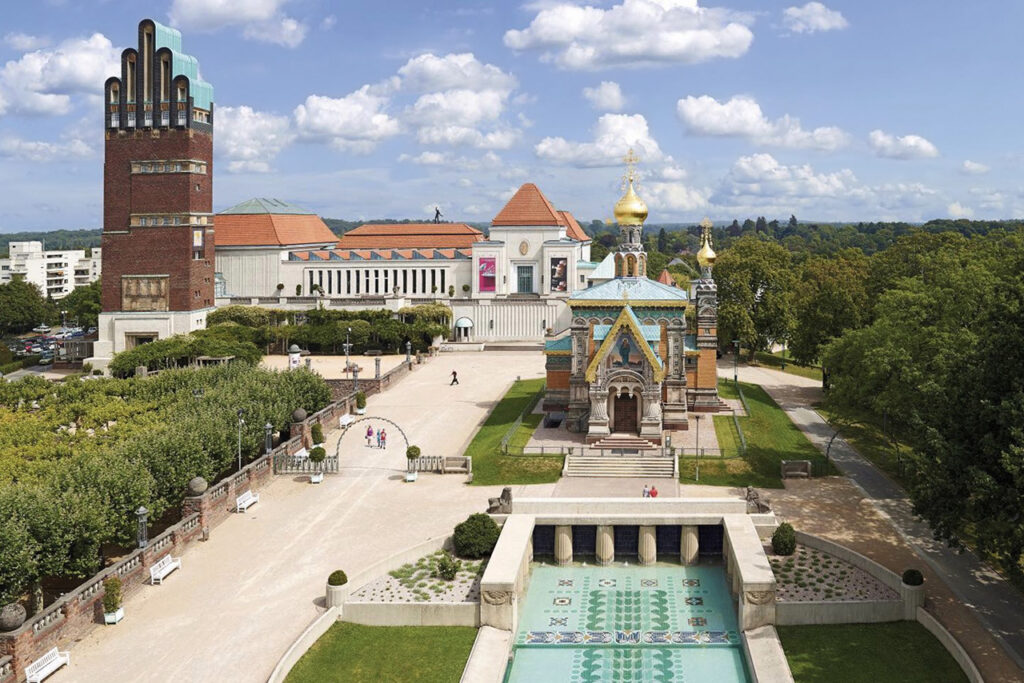 Architecture and offers
The individual elements of this "city crown" were created as contributions to the four building exhibitions initiated by Grand Duke Ernst Ludwig of Hesse and by Rhine on the Mathildenhöhe in 1901, 1904, 1908 and 1914. Based on European life reform movements of the 19th century, the aim was to present high-quality modern architecture and spatial art in collaboration with specialised firms. In contrast to previous building exhibitions, for the first time the majority of the buildings were designed as a permanent urban ensemble. The exhibitions on Mathildenhöhe thus developed an international appeal and provided important impulses for the founding of the Werkbund and the Bauhaus. Even today, the transition of modern architecture and open space design from the Arts and Crafts movement and Art Nouveau to the International Style of the 20th century is still visible on the Mathildenhöhe.The two exhibition buildings by Olbrich on the Mathildenhöhe, the Ernst Ludwig House from 1901 and the large exhibition building from 1908, are used by the Institut Mathildenhöhe for changing exhibitions and events. The Museum Künstlerkolonie also houses a permanent exhibition on the achievements of the Darmstadt artists' colony.
Further information and programme offers:
Contact
Dr Philipp Gutbrod
Director Institut Mathildenhöhe Darmstadt
Olbrichweg 15, 64287 Darmstadt
Tel : +49 (0)6151-132808
Social media