Permanent partners
from Weimar, Dessau and Berlin
Klassik-Stiftung Weimar
Burgplatz 4, 99423 Weimar
Tel.: +49 (0)3643 5450
www.klassik-stiftung.de
weimar GmbH - Gesellschaft für
Wirtschaftsförderung, Kongress- und Tourismusservice
UNESCO-Platz 1, 99423 Weimar
Tel.: +49 (0)3643-745313
www.weimar.de
Bauhaus Dessau Foundation
Gropiusallee 38, 06846 Dessau-Roßlau
Tel.: +49 (0)340-6508-333
www.bauhaus-dessau.de
City of Dessau-Roßlau, Tourism Marketing
Zerbster Straße 4, 06844 Dessau-Roßlau
Tel.: +49 (0)340-2042342
www.dessau-rosslau.de
Berlin Chamber of Architects
Alte Jakobstraße 149, 10969 Berlin
Tel.: +49 (0)30-29 33 07-19
www.ak-berlin.de
Bauhaus Archive / Museum of Design
Klingelhöferstraße 14, 10785 Berlin
Tel.: +49 (0)30 254002-40
www.bauhaus.de
buschfeld.com - graphic and interface design
Parchimer Allee 81 B, 12359 Berlin
Tel.: +49 (0)30-25922963
www.buschfeld.com
Landesdenkmalamt Berlin
Altes Stadthaus, Klosterstr. 47, 10179 Berlin
Tel.: +49 (0)30-90259-3670
www.berlin.de/landesdenkmalamt/
National Museums in Berlin - Art Library
Matthäikirchplatz, 10785 Berlin
Tel.: +49 (0)30 266424242
www.smb.museum
visit Berlin - Berlin Tourismus & Kongress GmbH
Am Karlsbad 11, 10785 Berlin
Tel.: +49 (0)30 264748-917
www.visitberlin.de
zukunftsgeraeusche GbR / BHROX bauhaus reuse
Postfach 120618, 10596 Berlin
Tel. +49 (0)30/314-72202
www.bauhaus-reuse.de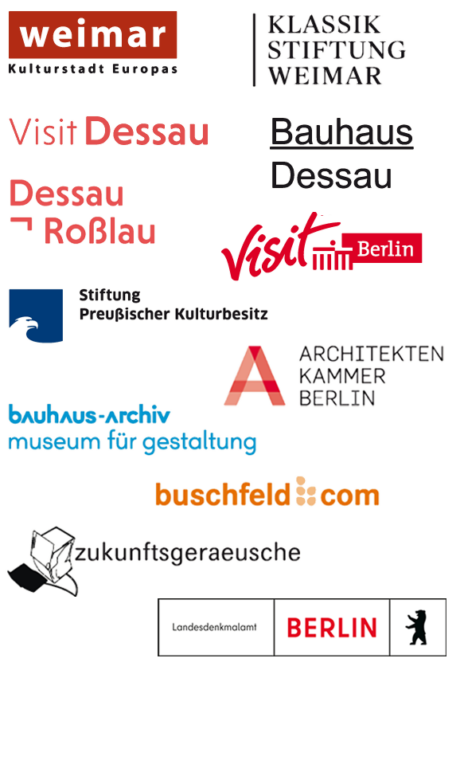 Strategic partners
Docomomo International
as represented 2022 by
Uta Pottgiesser (Chair)
Wido Quist (Secretary General)
www.docomomo.com
Icomos
as represented by
ICOMOS deutsches Nationalkomitee e.V.
Brüderstraße 13, 10178 Berlin
www.icomos.de
Supraregional coordination
buschfeld.com - graphic and interface design
zukunftsgeraeusche GbR / BHROX bauhaus reuse

---
Other programme participants
if not yet mentioned above
Weimar
Bauhaus-Universität Weimar
Geschwister-Scholl-Straße 8, 99423 Weimar
www.uni-weimar.de/
House of the Weimar Republic -
Forum for Democracy
Theaterplatz 4, 99423 Weimar
www.hdwr.de
Museum Neues Weimar
Jorge-Semprún-Platz 5, 99423 Weimar
www.klassik-stiftung.de/neues-museum-weimar/
Internationale
Bauausstellung Thüringen GmbH
Auenstraße 11, 99510 Apolda
www.iba-thueringen.de

Buchenwald and Mittelbau-Dora Memorials Foundation
99427 Weimar
www.buchenwald.de
---
Dessau
Docomomo Deutschland e.V.
c/o Bauhaus Dessau,
Gropiusallee 38, 06846 Dessau-Roßlau
www.bauhaus-dessau.de
Moses-Mendelssohn
Society Dessau e.V.
Moses Mendelssohn Center,
Mittelring 38, 06849 Dessau-Roßlau
www.mendelssohn-dessau.de/
as well as:
City of Dessau-Roßlau, Sports Promotion Department
Friedrich Schneider Choir Dessau
Junkers Paddling Community Dessau e.V.
Music School "Kurt Weill" Dessau-Roßlau
Youth Art School Neuruppin
Guild Hall Horizons e. V.
Universal compressed air orchestra
Homemade music
Dessauer Versorgungs- und Verkehrsgesellschaft mbH - DVV - Public utility company
Kornhaus operator GmbH
EDEKA Pollmer
Berlin Programme 2022
Visitor Center
World Heritage Bauhaus Bernau
Hanns-Wittwer-Str. 1, 16321 Bernau
Tel.: +49 (0)3338-7067879
www.welterbe-bernau.de
Bildungsverein Bautechnik e.V.
Lückstr. 72/73, 10317 Berlin
www.bildungsvereinbautechnik.de
BHROX bauhaus reuse
P.O. Box 120618, 10596 Berlin
Tel. +49 (0)30/314-72202
www.bauhaus-reuse.de
Bröhan Museum
Schloßstr. 1a, 14059 Berlin
www.broehan-museum.de
Centre for Documentary Architecture
c/o Anna Luise Schubert,
Sonnenallee 20, 12047 Berlin
www.documentary-architecture.org
cpb culturepartner berlin GmbH
Bessemerstraße 22, 12103 Berlin
Tel.: +49 (0)30-68915008
www.cpberlin.de
Freunde und Förderer der
Hufeisensiedlung Berlin-Britz e.V.
c/o Infostation Hufeisensiedlung,
Fritz-Reuter-Allee 44, 12359 Berlin
www.hufeisensiedlung.info/foerderverein
Georg Kolbe Museum
Sensburger Allee 25, 14055 Berlin
www.georg-kolbe-museum.de
Society for research
of the life and work of German-speaking
Jewish architects e.V.
c/o Günter Schlusche,
Bassermannweg 7, 12207 Berlin
www.juedische-architekten.de
Hermann Henselmann Foundation
Beatrice-Zweig-Straße 2, 13156 Berlin
www.hermann-henselmann-stiftung.de
Berlin 2022 (continued)
Kompetenzzentrum Großsiedlungen e.V.
RiesaerStraße 2, 12627 Berlin
www.gross-Estates.de
Mies van der Rohe Haus
Oberseestraße 60, 13053 Berlin
https://miesvanderrohehaus.de
Mila Hacke Architektur-Fotografie
Potsdamer Str. 116, 10785 Berlin
www.milahacke.de
Papageiensiedlung e.V.
Eschershauser Weg 17 K, 14163 Berlin
www.papageiensiedlung.de
Tautes Heim - Rentable Museum
in the UNESCO World Heritage Hufeisensiedlung
c/o Katrin Lesser & Ben Buschfeld,
Parchimer Allee 81b, 12359 Berlin
www.tautes-heim.de
THE LINK GbR
c/o Kanzlei BKP & Partner,
Kantstr. 150, 10623 Berlin
www.thelink.berlin
Ticket B - City Tours for Architects
Frankfurter Tor 1, 10243 Berlin
Tel.: +49 (0)30 4202696-21
www.ticket-b.de
Treppe b - Galerie im Le Corbusierhaus
Flatowallee 16, Room 1061, 14055 Berlin
www.treppe-b.de
Czech Centre,
in the Czech Embassy Berlin
Wilhelmstraße 44, 10117 Berlin
https://berlin.czechcentres.cz/de/
Promotion
Berlin program funded by: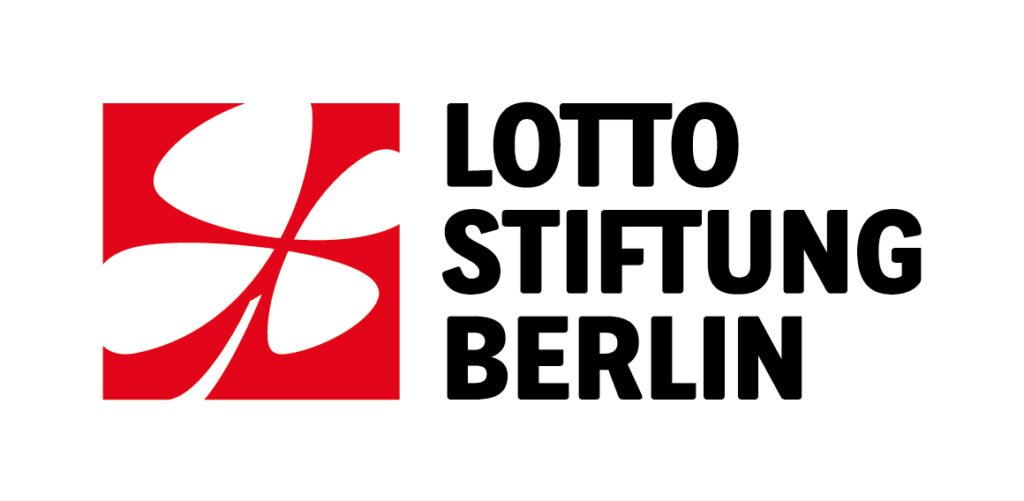 Application via:
Kompetenzzentrum Großsiedlungen e.V.

---
Media partners
Docomomo Journal
Berlin Newspaper
ARCH+
Birkhäuser