Program in Berlin in brief
Many formats and actors
The complexity of Modernism , expressed in a multitude of approaches, forms and ambivalences, is mirrored by an equally broad spectrum of interpretations and formats. This is matched by the fact that the Berlin program is put together by 25 partners of the most diverse types and sizes. This grassroots character of the Berlin program guarantees a multifaceted mediation and is suitable as a bracket to address currently relevant issues of urban development, diversity, and the social and political participation of civil society.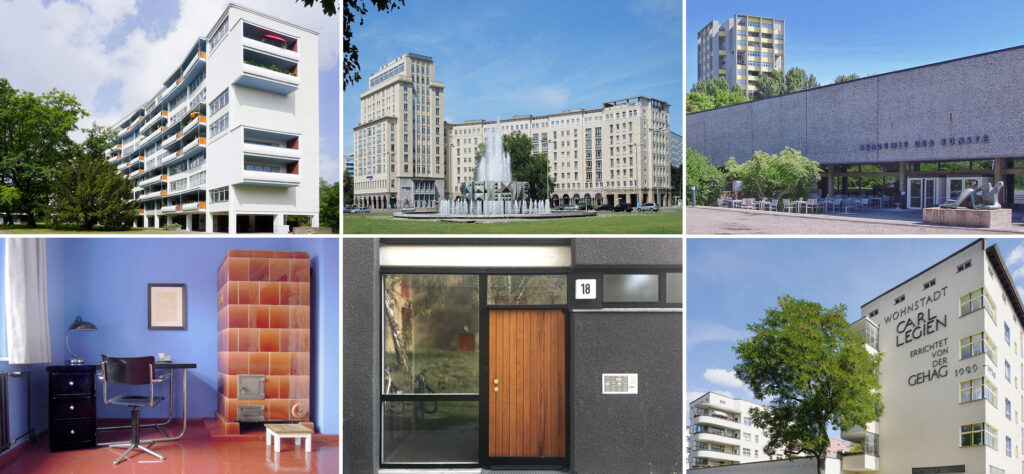 ---
Opening-Event (2 days)
Guided tours of the Czech Embassy
Contributions from the Triennial core cities Berlin, Dessau Weimar
Impulses from six other German World Heritage sites of the Modernism
Impulses from cities of the Modernism in Central Europe
Picture lecture event "Pecha Kucha of the Modernism" (approx. 20 parts)
Presentation of the current Berlin World Heritage proposal
Thematic Focus "Modernism in Ukraine
Internal network meetings (not open to the public, mornings)
---
Exhibitions
Exhibition "Starship Enterprise - 50 Years of the Czech Embassy
Exhibition "Lucia Moholy - The image of Modernism"
Exhibition "Modernism in Ukraine" (5 parts)
Exhibition "Life in the monument" (2 parts)
Exhibition "Allies in Berlin - the Architectural Heritage"
Exhibition "Architectural Photography with Schnepp Renou
Exhibition "L' Ésprit Nouveau
Exhibition "World Heritage-Estates 6+1"
Exhibition "Urban Networks of Modernism in Gdynia/Poland"
Exhibition "Light, Air, Viruses
Exhibition "Infostation Hufeisensiedlung
---
Tours and visits
Czech Embassy / Czech Centre Berlin
Bauhaus Archive / Museum of Design: the bauhaus view
Mies van der Rohe House (Villa Lemke)
AGDB Federal School Bernau
Waldsiedlung Zehlendorf (Uncle Tom's Cabin)
Garden City Falkenberg
Horseshoe settlement
Horseshoe settlement + Tautes Heim
Friedrichststraße
Karl-Marx-Allee
Kolbe's neighborhood" bike tour
Postwar Modernism" Bike Tour
Hansa Quarter + Corbusier House
Cultural Forum
Congress Hall (Pregnant Oyster)
Malt Factory
Various exhibition tours (see above)
---
Workshops, performances, installations and media
Hybrid Habitats Workshop
Workshops "bauhaus yoga
Workshops "Malzfabrik Building Monument
Performance "The Fabric of Modernism"
Cinema film "Schocken - a German life"
Installation "Blind Spots of Late Modernism".
Video series "ConTexts of the Modernism"
Civic participation and workshops
(e.g. Hansaviertel, Karl-Marx-Allee, Onkel-Toms-Hütte)
---
Symposia and discussions
Discussion "Women in Architecture

Event series "Time travel into the micro-worlds of Modernism"
Colloquium on the World Heritage Proposal "Berlin East-West-East
Symposium on the work of Jewish women architectsfrom Central and Eastern Europe
Conference "Modernism complex - Complex housing construction from social to climate-neutral".
Book Presentation "Architectural Exports of the GDR
Symposium on Post-War German-Chinese Relations in East and West.
Symposium "Contributions of Jewish Women Architects from Central and Eastern Europe"
Discussion event "Young, but a Monument
---

Promoted by
The Berlin program is largely provided by partners without institutional funding. Large parts of these program contributions are funded by LOTTO-Stiftung Berlin as part of a shortfall in funding, supplemented in part by third-party and own funds.
Note: All information without guarantee. A more detailed overview with venues,
dates and registration options can be found at Berlin Program 2022
and shortly also on subpages of individual program items mentioned above.